Frédéric & Cristina will welcome you for a quiet stay  at 5  Lasserre. The guest house offers a great comfort,  in a  very natural and homely environment. You may  come  individually, with your family or between  friends. We  have accommodation facilities for 6  persons. We will  assure you a comfortable stay.
Guest house is apart from the owners home. You will  be totally autonomous concerning the access. Every  guest room has its own entrance.
At your disposal:
A duplex appartment of 90 sqm, including, at the ground floor, a living room with TV and HI-FI chaine, a safe, a desk table and a fully-equipped kitchen with dining area. The bedroom is at the first floor, with a 180X200 cm bed or two 90X200 cm beds and TV, large bathroom with a stone made bathtub, a separate shower, separate toilets and two washbasins. The duplex apartment has also a private covered terrace, with couch and a table for the meals. Portable barbecue at disposal. Independent entrance.
Two spacious bedrooms, equipped with a living room area, a 180X200 cm bed or two 90X200 cm beds, mini-refrigerator, Nespresso coffee machine, iron, safe, mini HI-FI, TV. Each bedroom has a comfortable bathroom, with bathtub, separate shower, toilets and two washbasins. Adjacent furnished small terrace and independent entrance.
A 70 m² hall is at your disposal for taking breakfast, read near to the fireplace or to welcome your guests. For that, you also can use our panoramic flat roof terrace. You will enjoy our overflow swimming pool, in the garden.
Breakfast is served  in the main hall. You can have cold and hot drinks, fresh fruit juices,  bread and pastries, home made jams, corn flakes, smoked salmon, cheese, ham, eggs, etc…
Free WIFI in the whole house.
MEALS : Please do refer to the page "Other Services"
Home cinema is available on request and with extra charge.
All guest rooms can be connected. You may hire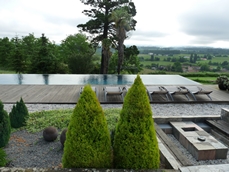 the whole house, 230  m², including the 70 m² main hall, for 6 persons, plus two terraces.
5 Lasserre is a wonderfull site with a large view over the Dordogne river  valley and Saint Emilion village. The landscape is often changing,  according to the day light and the seasons.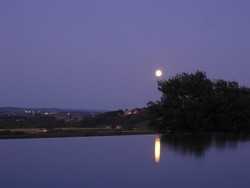 We are located in a crossroads' point to go for a stroll in the mild Aquitaine region.
Our guest house is away :
12 km from Saint Emilion, listed as World Heritage by the Unesco;
40 km from the Bordeaux historical center, also listed as World Heritage by the Unesco ;
100 km from Arcachon Bassin beaches (Atlantic Ocean), the Dune of Pyla and the Cap Ferret ;
90 km from Bergerac – Périgord ;
17 km from the Golf de Teynac, 18 holes;
23 km from the Golf de Bordeaux-Cameyrac, 18 holes
General conditions:
– After booking, you will receive a confirmation with instructions on the itinerary to follow at your arrival. It is important to print and to take this message with you. We are located in a hamlet at the edge of the village, like most houses in the Bordeaux area. Access is very easy but with very few directional signs.
– The announced prices apply to an overnight stay and for two persons. We reserve the right to refuse the welcome if the number of persons is upper, than the number indicated at the reservation, whatever the age, and we will keep the possibly paid deposit.
– Terms for cancellation: in case of cancellation within 30 days before the arrival supposed date, 30 % of the total amount of the stay is due. For a cancellation occurring 7 days before the date of arrival, the totality of the stay remains due.
– Our customers are welcomed from 4 pm and are asked to leave the accommodation till 12 am, the day of the departure.
– Rooms are cleaned once a day, and sheets and towels are frequently changed.
– Animals are not accepted.