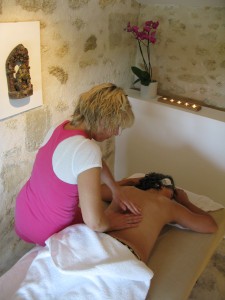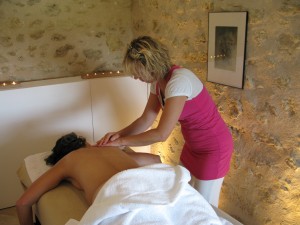 Fitness room equiped with a treadmill, an elliptical trainer and a training bench.
Resting room with view over the garden.
Steambath with color therapy and aromatherapy.
Massage room. The massages are on extra charge. You can pay it directly to the massagist.
In summer, massages can be made in an outside terrace, under the trees.
Relaxation face and body care with subtile aromas of essential oil (lavender, verbena, rosemary, ylang ylang, coconut). A moment of exceptional wellness to relaxe your body and find the harmony (personalized several techniques).
Body break : relaxing or tonic massage, pressures and effleurages, manual techniques of relaxation, from head to feet – 1 h :  75€ or 1h15 : 90€
Special offer : 2 massages of 1h15 minutes each, one after the other : 160 €, 1h each : 130 €, 45 minutes each : 110 €.
Facial care, waxing and manicures are available on request.
Thank you for planning the reservations one week in advance.